Thermal insulation of foundations from inside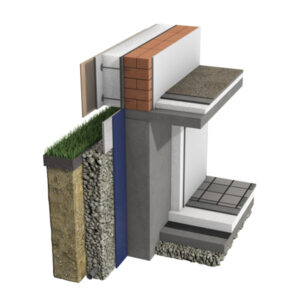 Necessity
The thermal insulation of foundations from inside is used to thermally insulate basement premises if they cannot be insulated from outside. This technology allows improving thermal technical properties of the load-bearing structures and reducing the overall heat losses in the building. Internal thermal insulation can ensure the required basement micro climate and protect the premises against humidity. This technology should be combined with thermal insulation of basement floor. However, this technology will not protect foundations against effects of humidity and frost. Therefore, this solution is most often used for renovating buildings in situations when other solutions cannot be used.
The technology includes:

Preparation of foundation.
Placement of hydro insulation.
Fixing thermal insulation plates with a polyurethane glue.
Plastering.

The foundation must be clean and even. Before staring any mounting works, pay attention to the fact that hydro insulation should be based on water; otherwise polystyrene foam can start to decompose. Plastering is necessary for meeting fire-safety regulations.
| Solution products | Fire reaction class | Sizes | Thermal conductivity coefficient | Compression tensions | Tensile strength | Long-term water absorption | # |
| --- | --- | --- | --- | --- | --- | --- | --- |
| | - | | | | | | |
| | | | | | - | | |
| | | | | | | | |
| | - | | | | | | |
| | - | | | | | | |