Floor on ground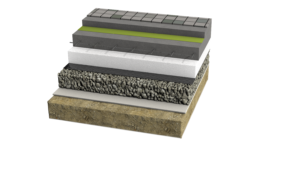 Solutions
Floors on ground are thermally insulated to ensure micro climate in the above premises and reduce heat losses during the cold season. There are 2 technological solutions possible for mounting a floor thermal insulation system. One of the solutions is used for thermally insulating the existing floor when the thermal insulation layer is placed on the existing floor construction. In terms of technical thermal insulation, it is better to employ a solution when thermal insulation layer is embedded under a concrete layer. A hydro insulation layer should be used in both solutions to protect the thermal insulation layer from the effects of ground waters.
Thermally insulating an existing floor
Before placing a thermal insulation layer, one must always assess the existing floor, clean it from dirt and, if necessary, level the floor. Unevenness of floor structures will not allow you to create a durable thermal insulation layer because it can start to crack and the structure can lose its durability. Since the ground composition below the floor is probably unknown, before placing foam rubber you should create a steam and water insulation. The floor insulation should have 2 layers so that the second layer would cover the lower layer's connection sites and there would be no penetrable connections. There should be a leveling concrete layer above the thermal insulation layer. If thermal insulation is constructed in premises where a flow of people is designed, an under-floor heating system could be designed by the use of TENAPORS TERMO plates and pipes affixed to the armature placed for durability of the concrete layer.
Construction of thermally insulated floors

To construct a thermally insulated floor, one must at first level the ground and assess its durability; if the ground is not stable, it should be changed. There must be a geo textile or geo membrane layer above the ground – this will protect the floor against lowering of the ground. Pebble or gravel drainage layer should be placed above the new layer (at least 150mm thick). If a drainage system is to be developed for the building, the lower layer should be constructed slightly tilted in the direction where it is designed to mount the drainage pipes. The next floor layer should be created for thermal insulation, placing under the layer durable steam-resistant layer. If there are low ground waters in the construction site and it is designed to construct drainage, one can abandon the use of steam film. Above the polystyrene foam it is necessary to construct a load-bearing reinforced concrete layer with an armature cover. If necessary, the concrete layer can include pipes for floor heating. Such a solution is optimal for constructing new buildings because high thermal insulation indicators are achieved along with elevated heating savings.

Ground with elevated humidity asks for formed thermal insulation materials with reduced humidity absorption; these will save thermal insulation properties of the material for a longer period. In construction sites with low ground waters, one can use cut thermal insulation materials too. The floor structures should bear a lot of load due to people movements and other processes. Therefore, it is advised to use in such structures at least EPS 80.
| Solution products | Fire reaction class | Sizes | Thermal conductivity coefficient | Compression tensions | Tensile strength | Long-term water absorption | # |
| --- | --- | --- | --- | --- | --- | --- | --- |
| | | | | | | | |
| | | | | | - | | |
| | | | | | | | |
| | | | | | | | |
| | - | | | | | | |
| | - | | | | | | |
| | | | | | - | | |