Insulated concrete slab-on-gound foundation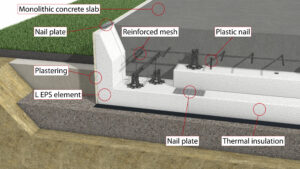 Technology
TENAPORS L EPS elements for concrete plate foundations is designed for construction of plate foundations in small residential buildings. Combining elements with insulation plates, a template is made where one can pour concrete for monolith plate-like foundations. This allows you to obtain a monolith structure with no direct access to ground and no heat bridges. Such a structure is not only durable against ground sedimentation and deformation but it also has great technical thermal properties.
Thermal properties
TENAPORS L EPS element is derived from Scandinavia where it is commonly used due to its excellent technical thermal properties. The heat conducting coefficient λcl of the used polystyrene foam is 0.034 W/mK. The long-term water absorption does not exceed 5% and the material guarantees excellent preservation of technical thermal properties over the course of a long time.
Load-bearing stress
TENAPORS L EPS element is made of material EPS 150 where pressure stress at 10% deformation is 150 kPa. The most important indicator in the construction of foundations is long-term load durability – in this case 45 kPa or 4.5 t/m2. There are elements available from other class EPS material (pursuant to a client's request), but such products are rarely used. The technology with plate-type foundations and L EPS element is most commonly used for construction of 1-2 story wooden structure buildings in the private sector where the long-term load durability of elements is fully sufficient. Such foundations are also used for building private houses of aerated concrete or other construction blocks.
L EPS elements must be strong because the whole building will be based on it; therefore, it is made of highly durable EPS material with great long-term load durability. Similar thermally insulated foundation systems with various modifications are rather popular in the private housing sector across Scandinavian countries, Germany, Great Britain; they are gaining some market traction also in Eastern Europe. The popularity can be explained not only by the great thermal technical properties of the EPS material, but also:

High durability against pressure stress.
Longevity.
Low water absorption.

4. Easy treatment which does not require special tools or heavy machinery.

Our foundation thermal insulation solution is not only effective and ensures low heat losses, but it is also:

Simple mounting without required pre-knowledge for mounting works.
Mounting works are fast – thus reducing workforce expenses.
High durability against pressure stress and low water absorption secures constant heat insulation and technical properties for a period of time exceeding 50 years.
Increased life comfort.
Practically prevented possibility of heat bridges.
Possibility to reduce concrete consumption for 30-60%.
ideal connection with modern heated floor solutions, e.g. TENAPORS TERMO, TENAPORS TERMO PLUS and others.

8. In combination with floor heat insulation, it is possible to prevent adverse heat loses, thus reducing heating bills to the minimum.